Hey guys! So, if you have not heard the news, Second Life residents finally have the chance to get last names again….at a cost. For the record, I like Monica Querrien, and my display name Moni, so I will not be changing my name ^^
Eyeshadow: CAZIMI: Eyeshadow – Brazen, CAZIMI: Facial Gems – Hearts
Lipstick: CAZIMI: Trending HD Lipstick (Catwa)
Jewelry: Chop Zuey – El Caracol Choker Necklace
Hat: GizzA – Rainy Day / Hats [BW]
Hair: DOUX – Mineko Hairstyle
Skin: [Glam Affair] Trina Applier [ Catwa ] Basic Line
Top: SCANDALIZE. Aralda.Top
Bottom: SCANDALIZE. Aralda.Pants.Pattern
Phone: Kei Spot – Kei's Cell Phone
Poses & Backdrop: FOXCITY (no clue what happened to my notes so I don't recall now)
Comments highlighting the overall feedback with the last names
There has been a lot of feedback with the recent news. Some people are running to change their first name, and/or getting a new last name. Others are saying, "NOPE!" and have even accused Linden Lab of being greedy.
(The following comments have been taken from the Second Life Friends group on Facebook)
"They're not greedy… Think about how many stuff and work they have to change if you change your name. Let me give you some examples: every transaction you ever made, every texture you uploaded, all your chats, all your objects, everything that has to do with you will have to be changed. So yeah, it's a lot of work." – Lou Santini 
"Are you crazy for 40$ I should be able to change my first and last name to whatever I want! Anyone new with half a brain would spell out there first name(not leave a space)type there last name example joeblow and you're done Free" – Robert Stewart
Some people thought that the name change should had been at different price points for premium and non-premium members.
"i think they should have offered the names to non premium members at $39.99 or something and to their premium members a cheaper rate or something gesh lol" – Reyna Gears 
Some people mentioned that it was poor timing to do the final release during the COVID-19 pandemic.
 "Not the best marketing move to be introducing this feature in the middle of a pandemic …" – L'Heure Bleue
(in reply to L'Heure Bleue)
"except it was announced more than a year ago and it's been like 9 months or more since they also announced how much it was going to cost. This is nothing new and has been in the works for years." – Desiree Griffin 
(in reply to Desiree Griffin )
" Regardless of that, I still think they're being greedy as fudge. They could have hold this off until the months to come. The fact that they're releasing it now, without any type of consideration and/or discount for SL members is just insensitive.
If I'm required to pay $40.00+ to change my name, I'd like to do it my way. And that includes the complete revamp of my first and last name. SL-wise. This feature is restrictive, lackluster, and unnecessarily expensive. And to top it off … the available last names aren't even that great." 
– L'Heure Bleue
"I changed my name today,because I have wanted to for a very long time. I shortened my first name and changed my last name . That being said it was expensive, and I do wish LL would allow regular account to do it too. It would also be a nice gesture if they did something nice in response to the world wide pandemic since they have so many loyal global players who are their bread and butter. It is not required, but would be nice because their business is booming while so many of us have had to close our rl business. It's great to see how many inworld have stepped up . I have given my renters two fee weeks myself. I love to see how many inworld have responded. We are a great community. With all the bad things in sl it's nice to see ppl doing some good. Just like rl."
– Holly Nova
Comparison with World of Warcraft
Some people compared the recent price for name changes to that of World of Warcraft. So I did some research, and took a couple of screenshots.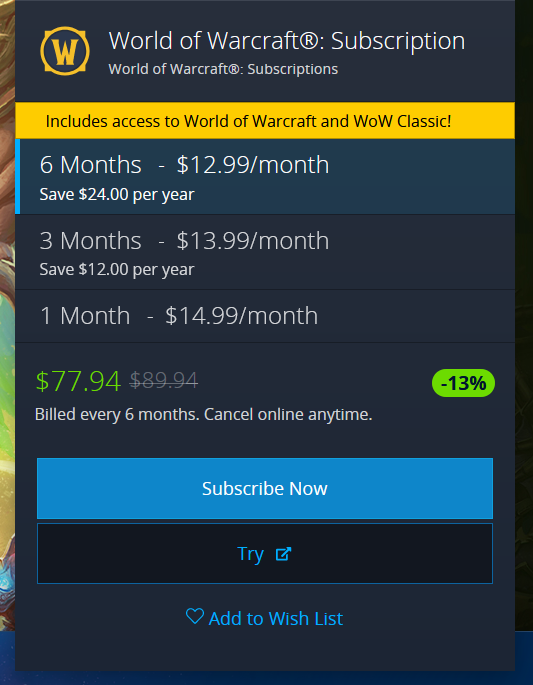 Is getting yearly premium + name change in SL cheaper, more expensive, or about the same as a 2-6 month subscription of WoW? Plus I hear that it's $10 to change your name on WoW.
Second Life users spend a lot of money on content that is not generated by Linden Lab. So even though they spend a lot on the platform, Linden Lab will see it differently.
I believe that Linden Lab makes money from the following:
– Subscriptions
– Buying Lindens
– Cashing out Lindens
– Marketplace
-Land sales
But if you have a "free" account user who earns all of their money in SL, buys land from other residents, never cashes out their money, and has never sold items on marketplace, Linden Lab will not make money directly from their activity. This is different from the games where all content is provided by the creators of the platform, and they have micro-transactions and special packages that encourages people to buy, buy, and buy even more items.  Therefore, I am.not sure why these two platforms are being compared.
With a little help from my friends
I had asked my friends how they felt about all of this, and pretty much all of them said that they would not be changing their name.
The appeal of having a last name
People have said that they could buy a lot for $40, both inworld, elsewhere online, and in RL. So if paying $39.99 (more if you are not already Premium) is too much, then why are people choosing to make the plunge?
* Some people really don't like their name
When people started SL after last names were taken away, a lot of people created names that were more "usernames" than actual first and last names. Can you imagine having a name like "ihazkats" and then expect for people to take you seriously? Even with display names, people may still use the username if your display name seems silly or hard to read.

* The name they wanted was taken
Especially with the usernames, there was a time where no matter what name you put in for a username, the name was already taken. One of my friends actually has a username of "whichnameisnottaken" because he was so frustrated in trying to come up with a name. However, with a last name, he and many others can finally get the name that they had originally wanted.
* They want a last name like everyone else
It's no secret that when last names were taken away, there was a separation between those who had last names, and those who did not. People were wary of those who "had no name". It's the same as people who don't have payment info on file, but that's another discussion for another day.
People with last names have (or at least they used to) a sense of community. If you see someone with your last name, chances are you probably started around the same time period. Someone who started in 2005 most likely would not have the same last names available as someone who started in 2009. For some reason, the last name "Querrien" doesn't seem to have a lot of active residents. I remember when I met my "relative" – he and I both felt the same way. It's not like we friended each other or anything, but it was definitely a moment shared.
Now when people with a new last name see each other, they will know what they had to go through in order to get one, especially with the first round of names.
* Partners can now have the same last name
For some people, sharing the same last name is very important. Partners and family members can now all have the same last name. However, I can see this backfiring considering the way relationships end in SL.
* New beginning
Perhaps their current name has a lot of baggage attached to it. They don't want to start over with a new account (because to replace everything costs money too), but changing their name means something to them. Just think about when people change their names in real life. Marriage, divorce, new identity – all of it has meaning, So if SL is indeed a second life, why would this be so strange?
The Cost
At L$268 for 1 USD, the cost in Lindens would be L$‭10,720‬. This is a significant amount of money, and if someone wanted to use Lindens to pay for a name change, the amount needed to be able to cash out would be even more..
However, there are people who can earn this much money in SL fairly easily (i.e. within hours or days). And there are people who buy this amount of Lindens for a weekend shopping trip in SL. BVN University is L$10,000 per student, Visionaire Institute is L$20,000, and a number of custom items in SL costs more than L$ 20k.
Some people say that paying money to designers is different because they work hard for their money, whereas Linden Lab just has to "flip a switch" for the name change. But then people are upset when they don't hear from LL with technical support issues fast enough. It takes money to pay for staff to do those things. Others say that buying things inworld is tangible, and a name is…just a name. But as we saw before, a name is more than "just" a name.
My Take on Things
I believe if Linden Lab wanted to make money from the name changes, they could had charged less, and allowed more people to change their names.
If it was $10 for premium members, I think more people would consider signing up for premium to get the name change. Let's say you need to have at least a quarterly subscription. That would be 32.97 + 10 = $42.97. So for same price that LL is charging for the name change, people could get premium + the name changes. How about signing up for monthly? That would be 11.99 + 10 = 21.99. Once you have premium membership, I think $10 is very reasonable. But is it Linden Lab's goal to make money from name changes? Or is it to balance out the demand for last names?
Maybe they don't want everyone to change their names easily. Can you imagine if someone can change their first and last name on a whim? We already have identity issues  with display names – do we really want to have to scrutinize people's usernames as well?
Also, for all the people "supporting" designers, it would make doing re-delivery of items difficult if they are not currently using a system that supports this.
Had they allowed new accounts the ability to choose last names, I think we would had seen a lot of alt accounts, and the older residents would had felt slighted.
I believe that it should NOT be easy to change your username/legacy name. It should be at a price point where you would have to think long and hard before making a decision. We already have display names for free that people can use to change their name.
People who constantly complain about an option that they claim to not be interested in doing shows that they would be interested if the price was right. There are plenty of things in SL that I don't feel that it is worth getting. And for many years, becoming a Premium member was one of those things. Even though I don't like the way I came about becoming premium, I don't regret it. And I am sure everyone who is changing their names at this time do not have any regrets, because it's something that they have wanted for a long time. If no one (or few) people thought the price was too much to pay, I am sure Linden Lab would re-consider it.

Final Thoughts
Last names are finally back, although it came at a price. I think we should be happy that people finally have a chance to solidify their Second Life identity. The price to do so may be too much for some, but then again, I am sure that they would gladly pay for things others would think was not worth it.