Hey guys! I was reading Facebook today, and apparently there has been some confusion as to whether bloggers can post their blog links on Flickr.
Coat: *COCO*_OversizedFurCoat_(w/materials)_HotPink
Shirt: Jeune by Rowne.Trinity Turtleneck Bodysuit – Onyx.Maitreya
Pants: LYBRA . Nala Pants (Lara)
Shoes: [Gos] Emma Strap Pumps – Blue Metallic [maitreya]
Hair: #Foxy – Teddy. (M)
Skin: [Glam Affair] Penelope Applier [ Catwa ] 006 
Glasses: LEN$[– 65 – Pink
Pose:  FOXCITY Bad Girl (Modded)
Backdrop: [Empowered] Backdrop #26
The Issue
So, the question of the day is, "Can SL bloggers put their blog links/ link to credits on Flickr if they do not have a pro account?"
This is what Flickr's site says:
"Don't use Flickr for commercial activity, unless you're a Flickr Pro.
Only Flickr Pro members are permitted to link directly to a shopping cart, checkout page, or pricing pages on other sites. Flickr Pros may also list prices for their products in their Flickr photo descriptions. For more information about Flickr Pro accounts go here."
Okay so, we know that bloggers receive items to blog in exchange for promoting stores' items on their blogs and social media. But a lot of bloggers buy their items, and also promote the stores where they purchased their items. So do our blog posts fall under commercial activity? Our blogs are a directory of listings – we talk about stores, events, and various topics pertaining to Second Life. Many of us rationalized that because our blogs do not provide a direct place to purchase items (like a marketplace would), that we do not fall under this category.
However, we can no longer use this reasoning.
According to Hayden Pierce on Facebook,
"I contacted Flickr for clarification on their policies, this is their response. I'm sharing this with Ary so she can update her previous posts as well.
I had theorized they were only talking about Marketplace links, however, it also includes in-world stores, apparently. I'm not sure how to feel about the in-world part. But please take a look, I could be reading this wrong.
EDIT: I asked for further clarification on in-world stores, etc."
"Hi there, thank you for contacting us here at flickr. We're happy to help clarify.
For free accounts, linking to a store in Second Life is considered commercial activity. Linking to a blog that links to a store is also considered commercial activity.
Anything linking to where a transaction can take place is commercial, No matter how many steps put between, even if you are not the one set to gain counts as commercial activity.
"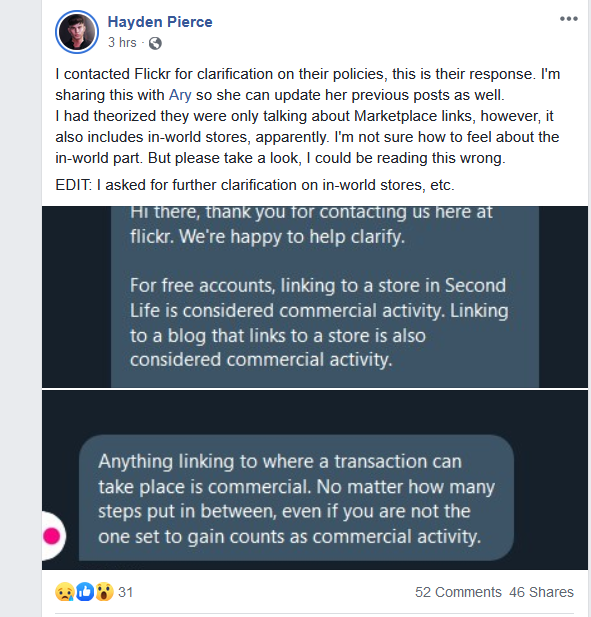 To make this clearer, this pertains to linking your blog link (or linking to marketplace or inworld locations) directly on the Flickr post.
But, what about…?
A question that comes up immediately is, "Suppose if I am taking photos of a sim, and linking it to an inworld location?" I think this is a grey area. However, if you are taking a photo like this:
it should technically be okay. There is nothing in the Flickr photo that can remotely be considered as advertising, unless calling it a "boat" with a inworld location can be misconstrued as such. But if Flickr starts associating all SL links with commercialism, then this may become an issue as well.
So, what's the problem?
The problem lies in the fact that over the years, the Second Life community has grown reliant on using Flickr as a promotional tool. As I said when Flickr made its big announcement in late 2018, it's time for Flickr only bloggers to start looking for other ways to promote their content.
If your store is popular similar to Blueberry, or your event is well known similarly to Collabor88, I think bloggers can get away with simply mentioning the name of the store and/or event. But suppose if your event is new? Or your store is hard to find in search because its name is common, or the location is located in a mall type setting (meaning that the name of the store will not immediately show in search)? This means that brands will have to make sure that they are readily accessible. I will tell you right now that not enough brands know how to market themselves properly.
If I read an SL magazine, I do not expect to be able to click on the words, and get a link that goes directly to the event. Some magazines do allow you to do this (when they pay a fee). However, if Flickr users that receive items to promote a brand or event cannot directly point their viewers to the location, I believe it diminishes their marketing power.
The owner of CURELESS, Kaorinette N. Wright (kaorinette), had made a post as well on Facebook. In one of the replies (because I was communicating in the post as well), this point was made:

Monica Querrien I get what you mean, but if people is lazy to click through 3 links on a platform they already know, wouldn't it be worse to have to set up everything from scratch, follow everyone again on a new platform? If someone wants an item, they will go to an extent to ask you personally where did you get X item (I'm sure everyone in their SL's have been asked where did they get certain item), so I'm sure that seeing an item name or its brand is more than enough.
I mean, we had over a year to see what can be done to have a supportive environment. People did start promoting on Instagram, but they do not allow direct links on posts either. Instagram users have their own workaround to get their items promoted on that platform. As we know, Facebook is not that friendly towards Second Life users. People use FB pages to promote their blogs, but there is the issue of FB profiles. Avatlife is growing popular, but then what happened to Social VR or Pixel VR? Are people not supporting those platforms anymore?
What can I do as a free user?
According to what Flickr has said in the past to content creators who used links in their photostream, they said that they are allowed one link in their "About" section. However, it cannot link to a marketplace or similar site. Here is an example:
"…We don't allow commercial links on photos, sets, or other places in the photostream. We do allow you to have a commercial link in your profile – which is where people would go to find out more about you. "
So, you can link your blog in your Flickr profile, and have people click on that to get to your posts. However, if you choose to do it this way, it would be best to utilize a format where people can look at a number of posts at once. They can easily find the photo that corresponds to the one on your Flickr,  click on it, and get the information that way.
And since Flickr staff does not have time to look at everyone's profile, one can conclude that someone is reporting these posts. So I would make sure that I am not posting in any RL Flickr groups, even if they say all photos are welcome. All it takes is one person to flag you, and then that's it.
What can I do if I am a Flickr-only blogger?
Honestly speaking, if I was serious about being a blogger and not a fashion photographer, I would invest the time to set up a blog.
Why? Because I can almost guarantee if Flickr starts cracking down with the links, some creators will find a way to filter out those who cannot use links on their photostream. And you will not even know that you are getting rejected from groups because of this. Maybe not the bigger stores, because those stores tend to be more straightforward with their blogging requirements, anyway.
There are several free platforms you can choose from – WordPress, Blogger, Tumblr, etc so start now looking into them.
What could content creators do?
Just like over the years Flickr became the de facto platform to promote items, creators could come together and pick a platform to support. I think I have seen this with Avatlife, which is partly why I joined. But we need to continue the momentum to support Avatlife, Social/Pixel VR, and other platforms geared to our needs.
The Lesson for Bloggers
For Flickr only bloggers who are also free users, I think you need to pay close attention to how creators respond to this news. Some are saying that you do not have to worry about providing links. But I am concerned that this will drive up the demand for wanting Flickr users to reach even more people and gain exposure. After all, they cannot rely on every blogger being able to have the ability to link directly to the location anymore, so they need to compensate for that somehow.
Bloggers need to do what is best for their needs. We need to maintain our independence, and the only way to do that is to have our own platform to share our work. Ideally, it would be on a self-hosted blog. However, not everyone can afford that, and there are some strong platforms that are free to use. Promoting wise, it is never good to put all of your eggs in one basket. Sadly, this is what SL has caused us to do.  If you choose to play the game, make sure that the outcome is in your favor as well. Choose long – term goals that help you grow your blogging skills, and not on what other people dictate.