On Friday, October 5, I attended the show where the Miss Virtual Universe candidates showcased their stylings for the second challenge.
I had some technical difficulties, and combined with Second Life logging over 90% of the audience and participants offline, I was not able to get the amount of photos that I would have liked.
To open up the show, Morgaine read various passages from Dante's Purgatorio and Paradiso, describing the Zodiac and its 12 signs.
"And now see how from thence the oblique ring,
which bears the planets with it, branches off,
to please the world which calls upon them…" Paradiso X, 13-15
"O glorious stars, O light, that pregnant art
with mighty virtue, from which I acknowledge
all of my genius, whatsoever it be;
with you was born, and in your midst was hiding
he who is father of all mortal life,
when first I breathed the Tuscan air…" Paradiso XXII, 112-117


"The second triad which, like that above,
produces buds in this eternal spring,
whose foliage no nocturnal Aries spoils,
sings endlessly its vernal song of praise
to three sweet melodies, which sound in three
orders of joy, wherewith it trines itself." Paradiso XXVIII, 115-120
"The hour was when ascent brooked no delay,
because the sun had left the noon-time ring
to Taurus, as to Scorpio had the Night;
therefore, as doth a man who, whatsoeVer
appear to him, stops not, but goes his way,
if spurred by goading of necessity;
so, one before the other, through the gap
we entered in, and took the flight of stairs,
which by its narrowness parts those who climb." Purgatorio, XXV 1-9
 "The little threshing-floor
which maketh us so fierce, was as a whole
revealed to me, from hills to river-mouths,
while I was circling with the eternal Twins." Paradiso XXII, 151-153
"[…] and then a light became so brilliant in their midst,
that, if the Crab had such a crystal star,
winter would have a month of one sole day." Paradiso XXV, 100-102
"Up to the seventh splendor we are raised,
which now beneath the burning Lion's breast
is raying downward mingled with his strength." Paradiso XXI, 13-15
 "O Virgin Mother, Daughter of thy Son,
humbler and loftier than any creature,
eternal counsel's predetermined goal,
thou art the one that such nobility
didst lend to human nature, that its Maker
scorned not to make Himself what He had made." Paradiso XXXIII, 1-6
"As when he sends his earliest quivering beams
where his Creator shed his blood, while Ebro
'neath lofty Libra falls, and Ganges' waves
are being scalded by the heat of noon,
so stood the sun; daylight was, hence, departing,
when God's glad Messenger appeared to us." Purgatorio XXVII, 1-6
 "The hour was when ascent brooked no delay,
because the sun had left the noon-time ring
to Taurus, as to Scorpio had the Night…" Purgatorio XV, 1-3
"The moon, in rising, close to midnight late,
and looking like a bucket all on fire,
was causing now the stars to seem more rare;
as, counter to the heavens, it coursed the paths
the sun enflames, whene'er the Roman sees it
setting between the Sards and Corsicans…" Purgatorio XVIII, 76-81
"The sun, which from the middle of the sky
had hunted Capricorn with arrows bright,
was shooting forth the day on every side,
when those new people raised their brows toward us,
and said: "If ye know how, point out to us
the road that one should take to reach the Mount." Purgatorio II, 55-57
Morgaine next thanked the following sponsors for their participation.
" I would also like to especially thank our official Media Partner, ModeLS Magazine and BonieFacio, this is the ModeLS Magazine link: http://issuu.com/rboniefacio/ I invite you to explore this magnificent editorial work!
Thanks also to our sponsor and affiliate, Miss Virtual Brasil and Tryska1104!
Thank also to our official sponsor ON9 SL Event and in particular to one of the owners, Nakamuramiki, Thank you very much! To stay up-to-date, subscribe to the official group! On9 Fan Club
The theme
"The wonderful theme of this Second Challenge is: "Zodiac: the oblique circle becomes Art and Poetry".  The MVU Team request for our candidates was this:
"And now see how from thence the oblique ring,
which bears the planets with it, branches off,
to please the world which calls upon them."
(Divine Comedy, Paradiso, X, 13 – 15, Dante Alighieri)
We can not but travel the path of the stars. The Universe is caressed by the stars.
The stars make us dream, from the Earth are small luminous dots that make us shine eyes.
In Western astrology, and formerly astronomy, the zodiac is divided into twelve signs,
each occupying 30° of celestial longitude and roughly corresponding to the constellations
Aries, Taurus, Gemini, Cancer, Leo, Virgo, Libra, Scorpio, Sagittarius, Capricorn, Aquarius and Pisces.
The twelve astrological signs form a celestial coordinate system, or more specifically an ecliptic
coordinate system, which takes the ecliptic as the origin of latitude and the Sun's position
at vernal equinox as the origin of longitude.
The zodiacal symbols are Early Modern simplifications of conventional pictorial representations
of the signs, attested since Hellenistic times.
The stars of the zodiac have been grouped into constellations, to which names of living beings,
real or fantastic, have been assigned since time immemorial. This explains the etymology of the name, derived from the Greek ζῳδιακός, "zōdiakòs", word in turn composed of ζῷον, zòon,
"animal, living being" and ὁδός, hodòs, "road, path". Because of the revolutionary motion of the Earth, in fact, the Sun seems to travel the zodiac.
Create an outfit, mix and match inspired by your personal Zodiac sign.
We want a grandiose, poetic, inspiring and exciting representation.
We want to see you in all your splendor and magnificence.
Create something of excellent quality, do not use old stuff, now "old" for SL.
We want originality and an outfit that looks real … tasteful!
Your outfit must conceal mystery, celestial, ethereal, divine… stellar!
This theme is very difficult, requires a lot of fantasy, a lot of stylistic skills, imagination and inspiration."
The Jury of Experts
The Jury of Experts that will influence the televoting with 60% on the overall vote.
The Demographic Jury (the public) that will influence the televoting with 40% on the overall vote.
Well, now with immense honor I present this fantastic and wonderful team of Expert Judges!
 Etoilerose! Top Model, winner and competitor of multiple beauty contest.
 Mrs. Locuala Madruga! One of the most influential Top Models of SL, winner and competitor of multiple beauty contest, Blogger, Stylist.
 Mrs. NakamuraMiki! Top Models, competitor of beauty contest, Blogger, Print Model and Owner and Manager of Events.
Mrs. Shantal Gravois! Top Model, Blogger, Stylist, photographer, winner and competitor of beauty contest.
Mr. BonieFacio! Top Model, Blogger, Stylist, Instructor, Videographer, Dj and ModeLS Magazine CEO.
(Kain Aristocrat was backstage and I forgot to get a photo before Second Life decided to log us all out)
Mr. Kain Aristocrat! Top Model, Blogger, Stylist, competitor of beauty contest and founder of KHc Modeling Agency.
How to vote
The voting form will be opened 4 times during the challenge.  Each member of the audience will have a maximum of 5 votes available for each open session (4 sessions x 5 votes = 20 total votes).
The votes in excess (exceeded the 5 votes for each opening session), will not be calculated, so we invite you to keep an eye on your votes.  Please do not vote according to your personal affections, vote who you think has performed the theme better and who deserves it. Your judgment is really important for us.
The voting was still a bit confusing for me. I was happy because this time I got to vote at least once for everyone who I thought looked amazing. MVU had announced on Facebook that there had been some issues with voting, and if need be the public's scores would be thrown out.
The Candidates (click for slideshow)

MVU ♛ Brazil – GwendolynnCharming
"Gwen presents her sign; Taurus. According to mythology, Taurus represents the bull-form taken on by Jupiter when he became enamored of Europa, princess of Phoenicia.
The princess Europa was impressed by the beauty and gentleness of the bull, and the two played together on the beach. Eventually, Europa climbed onto the bull's back, and he swam out to sea with her. He took her to Crete and revealed his true self.
The constellation Taurus consists of only the head and shoulders of the bull. The representation in the stars seems to show a raging bull with a snowy white tail, however, always about to plunge into Orion, which doesn't seem to reflect the gentle, seductive bull that mythology showed us.
Gwen shows us the earthly translations that transcends to the Taurean's characteristics.
Solidity, practicality, extreme determination and strength of will – no one will ever drive them, but they will willingly and loyally follow a leader they trust. You see this in Gwen's strong arms and wings of gold and energy sparks.
They are stable, balanced, conservative good, law-abiding citizens and lovers of peace, possessing all the best qualities of the bourgeoisie, as represented with the bodysuit reflecting a superhero styling. The white skirt is representing the white tail of the constellation.
Taureans have a sense of material values and physical possessions. They will do everything in their power to maintain the security of the status quo and be stupidly hostile to change. Gwen's hoofed feet show her determination to "dig in" and stay strong and focused, and maybe even stubborn. They are faithful and generous friends with a great capacity for affection, but rarely make friends with anyone outside their social rank, to which they are ordinarily excessively faithful. The Red crystals in her wings are a sign of love and her heart, exposed and open.
With that, Gwen is vulnerable to you all. This representation today is showing her raw and open self.
Hovering on the Taurus Guardian field, she is Magical, Strong, Faithful, Reliable, Ambitious, and Persistent."
MVU ♛ Denmark – Arion Vella
"Miss Arion Vella's astrological sign is Aquarius, the Water Bearer. Aquarius, the eleventh sign, is an Air Sign from the constellation Aquarius and is ruled by the water Planet Uranus. Astrologers believe we have entered the Age of Aquarius where the ideals of this sign will rule the Earth and it's people. Miss Vella embodies air with her silver wings and water with her flowing blue gown. The Water Planet Uranus rules her from overhead and a glimmering starfield surrounds her while diamonds and pale sapphires twinkle like stars at her head. One of it's birthstones is the Sugilite, a rare bluish-purple stone gracing her necklace. The pièce de résistance. is the emblematic vase with flowing water that she carries to spread this precious resource all over the world. Highly intellectual, this is a sign of fierce independence that prizes intuition tempered with logic. The keyword for this sign is imagination which Miss Vella has used in her inspiration and presentation of Aquarius. As the lyrics tell u is the dawning of the Age of Aquarius…"
MVU ♛ Finland –  Dakota Lavarock
"Our challenge for this week is, "Zodiac: The Oblique Circle Becomes Art and Poetry." For this challenge, we were asked to do a styling based on our own zodiac signs. My sign is Sagittarius, the centaur, part human and part horse, and is known as the hunter and the archer. You can always recognize the symbol for Sagittarius as the centaur with bow drawn and arrow ready to fly. Centaurs, and so Sagittarius, come to us from ancient Greek mythology, with various ideas about their origin.
We were instructed to present a style that would impart mystery, the celestial, the ethereal, the divine, and the stellar. And, so, today I present to you Sagittarius, the Hunter, in a modern world. However, I have included some bits and pieces to hint at the old world centaur of myths and legends, as well, to help create my own, unique Sagittarius.
Each of the astrology signs has a number of characteristics associated with it, such as beneficial colors. The general consensus seems to be that the colors for Sagittarius fall into two families—yellow and blue, particularly the colors of topaz and turquoise, so I have chosen these colors as the basis for my astrology styling.
Both my voluminous skirt and divine leggings are in shades of turquoise and topaz and were designed with an image of a nebula that was photographed with the Hubble Space Telescope, catching long-ago stellar dust for our enjoyment today. To complement the celestial skirt and leggings, I have chosen a turquoise top that a mythical centaur might have worn in days gone by, but which surely is chic in our modern setting. To represent Sagittarius, I constructed an accessory made of four horse heads cast in golden topaz that I wear on my waist.
Because Sagittarius is part horse, this means they have horse hooves. To represent my sign of Sagittarius, I am wearing lace-up boots that sport shiny topaz hooves on them.
Sagittarius is a hunter, with bow and arrows, and, when shooting arrows, one needs gloves to protect the hands, and I have chosen strong leather gloves that match the colors of the gown.
My headpiece is made of shapes that represent the planets, the sun, and the stars, also in lucky golden topaz. Prancing on this headpiece is a symbol for Sagittarius, the archer, with the classic bow and arrow silhouette. Astrology signs are also known as Sun Signs, because, when a person is born, the zodiac constellation the sun occupies at that time determines what astrology sign they are. My charming necklace is designed with lovely turquoise and gold cords that suspend a large gold medallion. This medallion represents the sun as it moves through the zodiac constellations. The sun in this necklace has a mind of its own, and always seems to wander a little off course, never hanging quite straight down like a proper necklace. Well, this is appropriate enough, because Sagittarius is adventurous and does not follow the normal path.
Sagittarius is the archer, and so, of course, must make arrows with which to hunt. Arrows have feathers attached to the back of them to help them fly straight and true and not miss the target, much, I must say, like the words of a Sagittarius. My ear cuffs have feathers attached to the backs of them, and represent the arrows of the Sagittarius archer.
I also carry a topaz arrow in my hand, which is the ultimate symbol of the Sagittarius archer.
It seems that armbands originally were worn by men, perhaps to help show off their fine physiques, as well as to represent various things, and were later worn by women. Ancient Greeks wore armbands, and I imagine that the Greek centaurs must have worn them, too, so I have chosen to wear aesthetic armbands to represent the ancient Greek heritage of the centaur and the history of Sagittarius.
We were asked to style something celestial and stellar, so I have chosen to use a star constellation with beautiful, stylized gold stars, with hints of turquoise in them, to complement the rest of my outfit in a stellar way. You have heard the saying, "Pin your hopes on a star." Well, I have pinned my quiver and arrows on one of these stars! Of course, the quiver and arrows, again, represent the astrological sign of Sagittarius.
All twelve astrological signs of the zodiac are represented by one of the elements found on earth: air, earth, fire, and water. Sagittarius is represented by fire. To represent this element in my styling, I have hung a little fire on one of the constellation stars so I can always have a shining star.
I have falling stars, too, as meteors streak across my heaven. Some of these meteors have fallen all the way to earth, and you can see them shining under my feet. If you look closely at me, you can see bits of stardust that have drifted down from the heavens and landed on me, clinging in shimmering, ethereal turquoise beauty.
Since I am a Sagittarius, and part horse, I have chosen to wear my hair in a style that resembles the mane and tail of a horse, with the forelock falling above my eyes and the pony tail cascading down my back. I also wanted to add a bit of color to my hair, as well, so I have dyed part of it in the Sagittarius color of turquoise to match my gown. To complete my celestial look, I have chosen to wear some lovely, ethereal nebula contacts in my eyes that are the perfect turquoise color to match my styling and to imbue just one last touch of mystery to my stellar outfit. I hope you like my zodiac styling as much as I loved creating it!"
MVU ♛ France – Sequane
"The theme for this second challenge is: 'Zodiac: the oblique circle becomes Art and Poetry'.
For my part it's the sign of Capricorn which represents the month of January. In general, the Capricorn likes to wear modest styles and gives off an air of responsibility.
With their practical nature, the Capricorn woman intuitively understands how to dress for the occasion and should simply trust her instinct. The Capricorn has a certain talent for dressing well, and quite appropriately for the occasion. In summary, it's a sign of earth and aplomb, of maturity and fidelity but also ambitious and refined. The brown color is the one that suits him best.
The outfit that I present to you this evening perfectly corresponds to the description of my astrological sign."
MVU ♛ Germany –  Angellikamaia
"Hello I introduce myself I am Angellikamaia Miss Germany 2019 I present you my representation of the bull. For me Taurus is a strength of character by its nature.
With this outfit, I wanted you to perceive the force side, the character side and the imposing side.
The dress is a creation of Candynette Metaluna, who has given strength and beauty, thanks to her. The bracelets on the arms are from Zenith. The necklace comes from Asteria, it gives the outfit a strong side with this little touch of leather. The earrings are from Shanghai.
For me, the bull is sincere, faithful and courageous."
MVU ♛ Greece –  Jaily Bailey
"Please ensure your environment is set to Midnight in order for you to see my outfit at its best.
♈♈♈♈♈♈♈♈♈♈♈♈♈♈♈♈♈♈♈♈♈♈♈♈♈♈♈♈♈♈♈♈♈♈♈♈♈♈♈♈♈♈♈♈♈♈♈♈♈♈
"Aries women don't need material things,
Write her a poem or love letter then watch her light up with happiness."
The Milky Way is a barred spiral system of over two billion stars which it holds within its four arms to resemble a celestial whirlpool of Divine wonderment. Constellations are created from these stars–my constellation is ARIES.
"We are all made of stars." ~~ R.E.M.
I am Aries, the first astrological sign of the zodiac. My ruling planet is Mars, my element sign is Fire, my animal is the Ram, my birthstone is the diamond, and my astrology sign is ♈. These symbols and the stars of our galaxy are the inspirations in my Art and Poetry outfit.
The orbit above me shows fiery Mars and its alignment with both the Moon and the Constellation of Aries. A ram's head is also included. My headdress is Ram horns, my sash contains the Constellation with the astrological symbol below it. The fire in my hands inspires me and gives me the power to create, The fire spirit inside me inspires me to love with the warmth of the heart. My diamond jewelry set represents our Milky Way with galactic motifs, and there are twinkling diamonds within the stars on my sash.
 While I am adorable and lovable, Aries traits include: optimism, determination, and stubbornness, along with willpower, stamina and passionate impulse (this most likely explains my abundance of hugs).
"It is the stars, The stars above us, govern our conditions." ~~ Shakespeare: King Lear: Act 4 Scene 3″
MVU ♛ Italy –  Sahra Freschi
"MVU ♛ Italy 2019 was born in Second Life on October 21st 2007, under the sign of the Libra.
The graphic symbol of Libra corresponds to the Egyptian hieroglyph indicating equilibrium, and represents the stylization of a statera, an ancient measuring instrument, iconically and archetypically symbol of Justice.
People born under the sign of Libra are characterized by the continuous search for balance, in personal and intrapersonal relationships, with the aim of bringing harmony and peace, they are brought for diplomacy, sociable, altruistic, without prejudices.
MVU ♛ Italy 2019 is inspired by the concept of balance and harmony, choosing for her outfit only 2 colors: white and gold. The asymmetric top combined with the long white skirt with semi-transparent golden train wants to recall the element of the sign of Libra, that is the air, which is considered synonymous with imagination, spirituality and purity. The jewels and shoes combine with the outfit with elegance."
MVU ♛ Japan – Rehana Seljan
"MVU ♛ Japan has chosen Virgo as the theme of Zodiac. Because I ate pomegranate fruit, I expressed Persepone's sorrow in a purple gown that I had to spend in the nether for 4 months in winter. Purple is a mysterious color as well as a color that expresses anxiety. It is because red and blue are mixed and it keeps a delicate balance. Purple is also considered a noble color in Japan."
MVU ♛ Poland –  Understandingcomplexity
"Aquarius is Latin for "water-carrier". With this outfit, Understandingcomplexity wishes to display a modern, sophisticated, and stylized version of the water carrier, the Aquarius icon
of stars.
The gown is a spin on the Greek, Roman and Pompeii Mosaics often found around the baths.
As colorful waters reflect the skies and sands below, the outfit is it reflect the colors of those waters. With every article of clothing carefully thought out and complimenting the other, the harmony of the water is represented. The gold headpiece has become the vessel from which that precious water flows.
Understandingcomplexity has created an outfit that is both "astronomical" and wearable to any formal and avant event. This is a complete work of Mix and Match, with jewelry and head dress, earrings and gown all taken from different sources. To complete the look, matching lipstick and eyeshadow harmonize with the blues, greens and aquas."
MVU ♛ Scotland – Brianna Beresford
"Oh what a Nite!! This dress is perfect for a Capricorn's nite out. We may take our time getting somewhere but when we are ready we outshine them all!! This outfit was one of those stop and go projects, just when I thought it was perfect I didn't like it 😦 Capricorns can change their minds 🙂 As I styled this outfit I was reminded often of my Capricorian traits and became more appreciative of some of my good habits and vowed to be more sensitive to some of my less favored traits 🙂 I don't plan to share publicly what they are !!
This gown caught my eye over at Jumo's and I had to have it It is perfect for this challenge and has the most fantastic HUD that can transform it into many different styles and colors. I already have another gown planned to wear out on the town that will make a great impression.
The accessories complete this look, the Cape accents the flowers in the dress and has just a bit of bling. The white Ram's horn completes the look of the Capricorn theme – never thought I would like horns but these are beautiful!! I hope you have enjoyed my Zodiac outfit."
MVU ♛ South Africa – Marylinemaby
"Pisces can not stay still in one place, because theirs is an eternal preparation and swimming, swimming in the deep sea, in places never discovered, where to live in its silence and harmony."
 MVU ♛ Spain – Candynette Metaluna

(Because I crashed at this point, I was not able to get the best photo while she was on stage. So I took a photo at the finale. You can check out her blog post here on her styling.)
"I introduce myself Candy, Miss Virtual Universe 2019 Spain. The theme tonight is "Zodiac: the oblique circle becomes Art and Poetry".
My astrological sign is Pisces. I went on a long white lagoon dress with scales, made by myself. The flexi, create by Irrisistible acts as fins, and I embellished small details on the theme of the sea."
MVU ♛ U.K. – Addy Omena
"Addy created a style inspired by his sign, Scorpio. Known for being one of the most mysterious signs of the Zodiac, Scorpios are known to be violent, possessive, nocturnal and very unpredictable, but they are signs of dissenting contrasts. Being the eighth sign of the Zodiac, it is ruled by the element water. It is the signs of the horoscope that have another super-unrecognizable side, because water is difficult to decipher, as are the signs of the Zodiac that are governed by that element.
Because it is an aquatic sign, it has a deep force and is strongly related to the feeling. The color is dark red, directly linked to sexuality (highly presented in this sign), symbolizes also achievements, passions and flee from sadness and discouragement."
MVU ♛ U.S.A – , Memole Giha
For this challenge, Memole chooses to represent her zodiacal sign: the libra. Ethereal and light, she wears a tunic dress that wraps her softly while she moves sinuously suspended in the air, which is the symbol of this sign. A leather bodice and a cloak embellish the outfit, a golden tattoo full of symbols on the arms expresses the evanescence while the hair is long and moved by the wind.
A golden collar wraps around the neck while the makeup is almost absent, just to make the idea of the incorporealness and impalpability of the libra, which is the 7 sign of the zodiac. The graphic symbol representing this sign, recalls the Egyptian symbol of the steelyard, a measuring instrument which is therefore an emblem of equilibrium; the lower part represents the Earth, while the upper part represents the elevation of the spirit and the mythology attributes to libra various legends, including that linked to Zeus, who used it to judge men and determine their destiny. In this sign is emphasized the sense of balance, of harmony, of refinement, of peace, of romanticism being a sign dominated by Venus and profound justice.
The scales, in fact, are always on the same level, testifying to the fact that there can not be injustice, that equity is fundamental and this is the only way for peace and harmony in the world. Memole strongly represents all this, while she moves away into the celestial sphere into wind's embrace."
While Memole was up on stage, I was logged out of Second Life. A friend who I was talking to on Skype said the audience, staff,  and the contestants were having issues staying online. I was so upset that I even took a screenshot of my start up window so I would have a photo to show.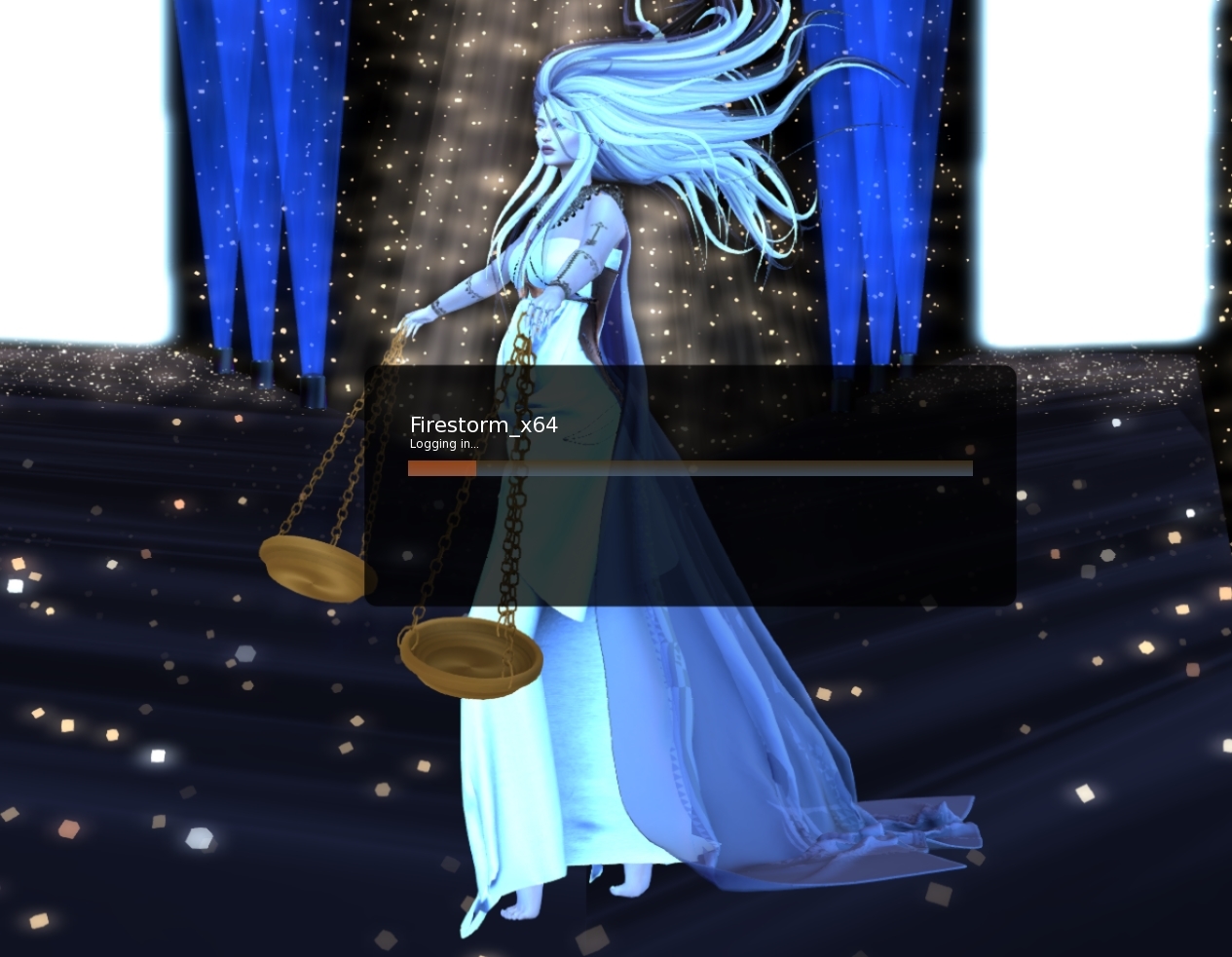 But later I realized that I had indeed taken some photos before I was logged out.
By the time I came back, the show was pretty much over.
Overall, I thought that this was another well-thought out show. The theme allowed the contestants to style in a way that represented their zodiac sign. Sometimes themes are very complicated where you either nail it or fail miserably. That is not always indicative of someone's styling but rather how well they interpreted what was expected of them. And you have to be careful of that, because you could be a top stylist, but fall short because you did not quite understand what you needed to do. I believe this is why sometimes we may see strong stylists get flustered and then not perform as well as they could have.
The one thing that people in the audience have spoken about is the LAG. People have said they have trouble rezzing in everything and everyone. There are a lot of amazing effects, but add that to an already active sim and the lag generated from that is inevitable.  At both of these shows so far, my FPS most of the time is below 20 (my graphics level is one level below Ultra on FS), which is very unusual for me.  Even on Ultra, my FPS is in the upper 30's and 40's. I personally would like to see how this event would be on a dedicated sim, or at least on a 1/4 sim that is high in the sky, and the rest of the sim is relatively low traffic. 
I am happy to see that people are enjoying my recaps. Stay tuned for the next challenge! 🙂